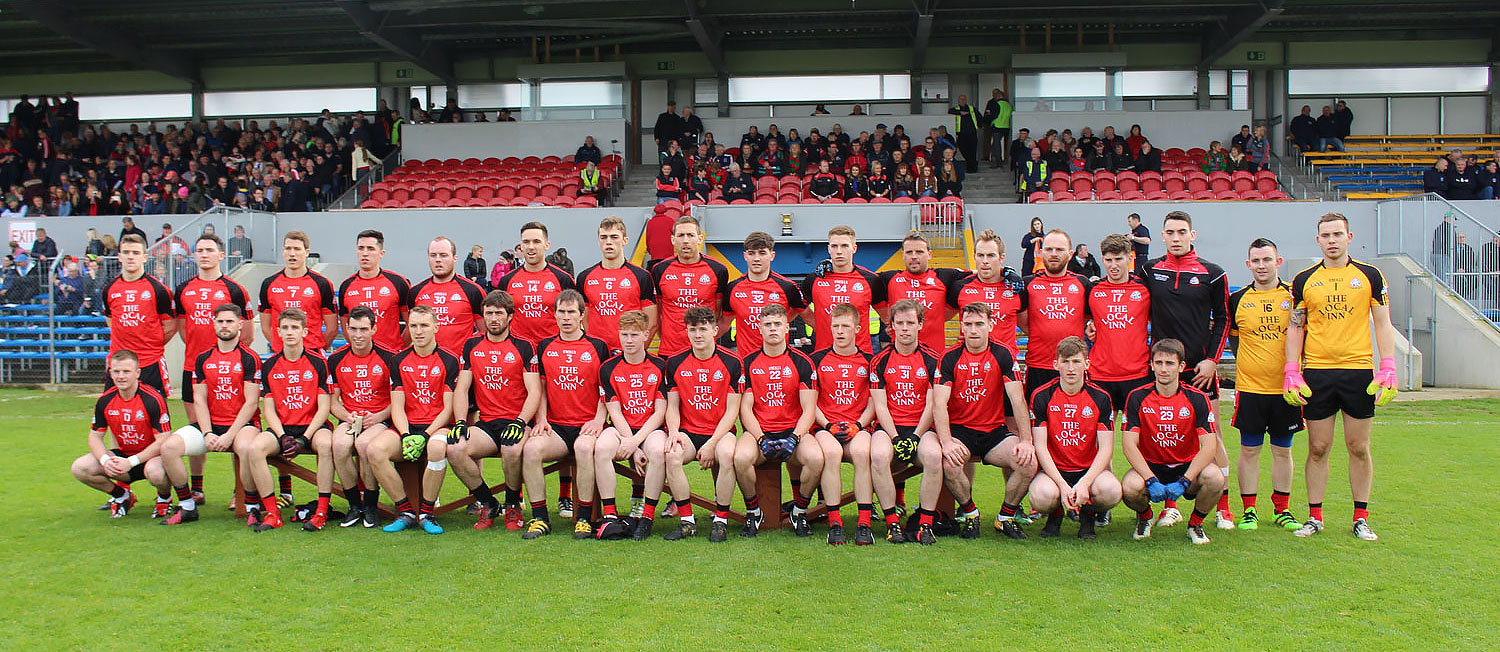 Feile 2015
The Team who attended Feile 2015
Dean Brassil, Stephen Casey, Martin Conlon , Ciaran Daly , Darren Deveraux,  Evan Flynn,  Eoin Gavin,  Mossey Gavin,  Kieran Gilhool,  Oisin Griffin.  Sean Hehir,  Daniel Kelly,  James Kelly, Mike Kirwan,  Aaron Lynch,  Darren M. McMahon,  Luke McMahon,  Jack Markham,  Michael Meaney , Aaron Moloney,  Aidan O'Meara,  Diarmuid O'Neill,  Cormac Reidy,  Patrick Sweeney, Charlie Whelan,  Cian Quinlivan
Team management
Mike McMahon (Manager), Patrick Frawley, James Brassil, Liam Kirwan, Nigel Moloney
The Clare Feile Story 2015
On a windy, wet and overcast Saturday Clondegad were grouped with Cooraclare and Miltown for the qualifiers of the U14 Football Felie which were played in Kilrush.  The first game was played between Cooraclare and Miltown  and threw in at 10.30 with Cooraclare the victors by a margin of 2 points on a scoreline of 1-6 to 2-1. The second game was Clondegad v Cooraclare. After 30 minutes of exciting football this game ended in a draw 3-4 a piece. The 3rd and final game saw Clondegad take on Milt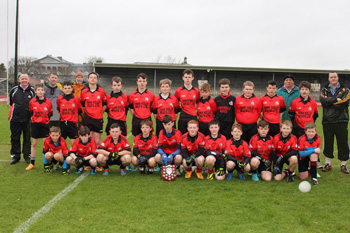 own with Clondegad needing to win by more than 2 points to proceed to the final. This they did and more with final scoreline of 5-2 to 3-3. Next up was the final and a meeting of Clondegad with Kilmurry Ibrickane who qualified in their group. The final took place in Cusack park with a throw in time of 5.15pm. Kilmurry started well putting 2 points on the board within a short time.  Clondegad were awarded a penalty which was scored and saw them take the lead. Clondegad added a further 2 points to make the score 1-2 to 2 points.  Kilmury finished the half converting a further 2 points to clondegads 1 point leaving the score at half time 1-3 to 4 points in Clondegads favour. The second half saw Kilmury putting 1 point on the board after strong pressure. Clondegad followed this with a goal to seal victory. The final scoreline was 2-3 to 5 points.
This was a special win for this squad of players after losing  out in two West Clare finals in recent years. It was a great performance from the players and the management were pleased to be able to involve the full panel over the days games.

This U14 team also go down in the clubs history as the first ever clondegad team to qualify for the National Feile finals.
The panel which included players from 12 to 14 yrs of age are listed here in alphabetical order; Dean Brassil, Stephen Casey, Kevin Clouhessy, Martin Conlon, Ciaran Daly, Darren Deveraux, Evan Flynn,  Eoin Gavin,  Mossey Gavin, Kieran Gilhool, Oisin Griffin, Sean Hehir, Daniel Kelly, James Kelly, Mike Kirwan, Aaron Lynch, Darren Mark  McMahon, Darren Gerard McMahon, Luke McMahon, Jack Markham, Michael Meaney, Aaron Moloney, Aidan O'Meara, Diarmuid O'Neill, Cormac Reidy, Patrick Sweeney, Charlie Whelan, Cian Quinlivan.  The Management team for the event were as follows;  Mike McMahon, Manager, James Brassil, Liam Kirwan, Nigel Moloney, Patrick Frawley & Dermot Gavin, team mentors and selectors.
The All Ireland Feile story 2015
The day finally arrived, June the 26th and Clondegads u14 footballers and their mentors arrived to board their bus on route to the All Ireland Feile in South Leinster having prepared to represent thier county in a series of matches over the weekend. Weeks of preperation and no shortage of willing fundraising from players and parents ensured the team were ready for action and in credit to them, the first group of players to represent their club at national level in the feile competition.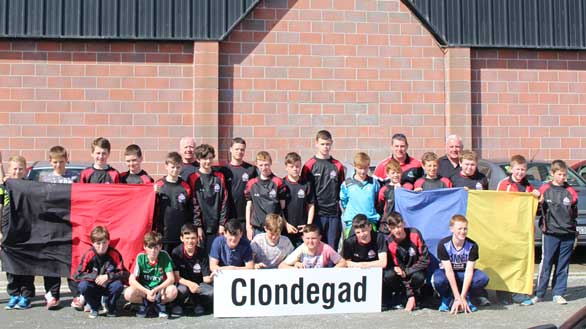 The first stop on the road to wexford was at the Maldron hotel in Portlaois for some food before arriving in Bagnelstown to face the first of the qualifiers when they met Carlow team Mhuin Bheag (Bagnelstown) followed shortly after by a strong Sligo team, Eastern harps. The team played good competitive football and the requirement to put 4 subs on each game ensured that all would play over the weekend,
The team re-boarded the bus with some points in the bag and headed uptown to eat at the railway bar in Bagnelstown before departing for wexford to meet our hosts St. Josephs gaelic football club. On arrival host families were united with clondegad players and in two's they departed for their new homes for some rest! in preparation for Saturdays action.
Next morning after hearty breakfasts all around the team arrived in St. Josephs home pitch and began the usual work of getting ready for the game ahead. This was a game against our host club and with a more relaxed atmosphere the team embarked upon the pitch behind a marching pipe band and in a real all Ireland final style both teams marched in single file behind the band before lining up to greet wexfords town mayor. The game followed and most players took their turn to play in search of more points for the team.
With some players nursing injuries and resting for this game, it ended in a draw with St. Josephs fielding a strong side and almost stealing a win in the final moments. Snacks followed this match and the team then left for Gorey for an important Quarter final which the team needed to win to progress to Sundays finals.
A strong win later against local team Kilrush and a happy bunch of lads were heading back to Wexford Town for a barbeque in the community centre. While waiting many played soccer in the large hall and after eating all team players and mentors walked the short distance to Wexford county grounds to see a very lively and entertaining match with Wexford taking on Down. The team enjoyed storming the pitch at half and full time and either played some football or followed the victorious wexford team around the pitch.
Returning to the community centre, a presentation was made to St. Josephs by Clondegad's secretary Kenneth Breen and U14 Manager Mike McMahon. Both expresed their thanks to their counterparts for their hospitality and St. Josephs presented a framed jersey to Clodegad in return. This jersey will be erected in the new dressing rooms when completed pg. Shortly after the players returned to their host houses.
Sunday Morning at 10am all players arrived back at the community centre for the trip to Carlow for the semi final having bid farewell to their respective hosts.
They met Cork team Ilen Rovers and altough we started slow conceeding 2 goals the young clondegad men fought hard to level the match and tok a slight lead before half time, the second half saw a close contest where both teams gave everything and both came within a whisker of winning in the final moments of normal time with a missed point for clondegad and a missed free for The Cork team. However with injuries having some effect on the team and tiredness playing its part clondegad finally sucumed in extra time and their bid for all Ireland glory came to a disapointing end.
The trip home was quiet initially but after a carvery lunch in the Maldron hotel spirits lifted somewhat and by 8.30pm the team arrived back home after a brilliant and enjoyable weekend. This U14 team acquitted themselves very well over the weekend, playing county champions from Carlow, Wexford and Cork. Technically they won 2, lost 2 and drew 1, a great result against formidable competition.
It was a weekend never to be repeated for this group and one never to be forgotten.
All Ireland Feile competition Pictures.
Below are a series of slideshows that captured the 3 day event
| | | |
| --- | --- | --- |
| Slideshow 1, Getting the gear, boarding the bus, eating in portlaois, First game in Bagnelstown V Bagnelstown. | | Slideshow 2 second game in Bagnelstown V Sligo's Eastern Harps and trip uptown for dinner. |
| | | |
| | | |
| Slideshow 3..... Game with host club St. Josephs in Wexford Town including parade behind the pipe band and meeting wexford towns mayor | | Slideshow 4...... Quarter final V Aakford Kilrush near Gorey foolowed by barbecue at St. Josephs and trip to County grounds |
| | | |
| | | |
| | | Slideshow 5. The final match which was the semifinal v Ilen rovers of cork which the team lost in extra time :-( ... no excuses but at this stage we were carrying a lot of minor injuries, from stitches to Kinesio tape to ice packs and sprays and add to that exhaustion as some players had given all.... it was like a scene from a war. |
| | | |
Photos & slideshows Mike McMahon